CAS-designed Multi-sensor Unmanned Aircraft System for Weather Modification Makes First Flight
Aug 11, 2022
On July 25, 2022, a new unmanned aircraft system (UAS) started its first flight at Pucheng Airport in northwest China's Shaanxi Province to test the performance of onboard remote sensors for weather modification. The flight, lasting one hour and fifteen minutes, marked the success of China's first long-endurance UAS for weather modification.
The UAS was developed by the Institute of Aerospace Information Research (AIR) under the Chinese Academy of Sciences (CAS) in partnership with several domestic research agencies and enterprises in related fields.
This UAS uses a modified Chinese self-developed drone as the platform, which features multi-load capabilities, 4-hour endurance, low operation and maintenance cost, high security, and quick deployment.
The onboard instruments for weather modification are based on the new generation space-borne radar for atmospheric parameter detection, realized the functions of laser-microwave dual-mode compound detection, combined active-passive detection, in-situ detection, etc.
The system can realize multi-factor quantitative remote sensing detection of atmospheric elements such as cloud, rain, aerosol, and wind below the flight route. The whole system is capable of real-time precision detection, intelligent analysis and judgment, accurate cloud seeding operation as well as evaluation of seeding effectiveness.
The flight marks the construction of a new remote sensing UAS for weather modification and the start of engineering application of the technology in China. The system is expected to play a vibrant role in such scenarios as drought prevention and mitigation, and environment protection.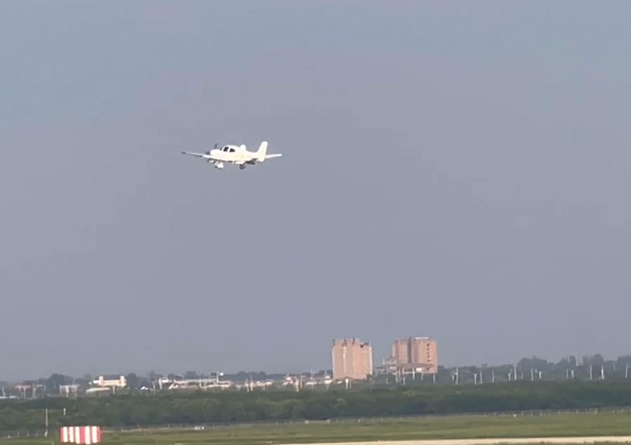 The UAS starts its first flight at Pucheng Airport in northwest China's Shaanxi Province.