Paper on Big Earth Data Science Selected into Earth Day 2020 Collection
Apr 24, 2020
Taylor & Francis Group has recently selected a collection of 15 papers featuring environmental protection from its publications during 2017 to 2020 as a promotion of Earth Day 2020 (April 22). The collection papers are available at https://think.taylorandfrancis.com/earth-day-2020-article-collection/ for free until May 30, 2020.
A paper entitled "Big Earth Data science: an information framework for a sustainable planet" , which is co-authored by Prof. GUO Huadong from AIR together with JRC collaborators and published in the International Journal of Digital Earth has been selected into the article collection.
The open-access paper points out that human society is facing increasing challenge of sustainable development, and is in urgently need of a new scientific approach and an advanced form of evidence-based decision-making towards the benefit of society, the economy, and the environment.
Big Earth Data science as a new engineering discipline is proposed in the paper for better understanding the impacts and interrelationships between humans as a society and natural Earth system processes.
The discipline aims to utilize data from Earth observation and social sensing and develop theories for understanding the mechanisms of how such a social-physical system operates and evolves. The manuscript introduces the universe of discourse characterizing this new science, its foundational paradigms and methodologies, and a possible technological framework to be implemented by applying an ecosystem approach. CASEarth and GEOSS are presented as examples of international implementation attempts.
The International Journal of Digital Earth (IJDE) is launched in March 2008 and jointly published by Taylor & Francis Group, with focuses on the theories, technologies, and applications of Digital Earth.
Please click "Big Earth Data science: an information framework for a sustainable planet" for more article details.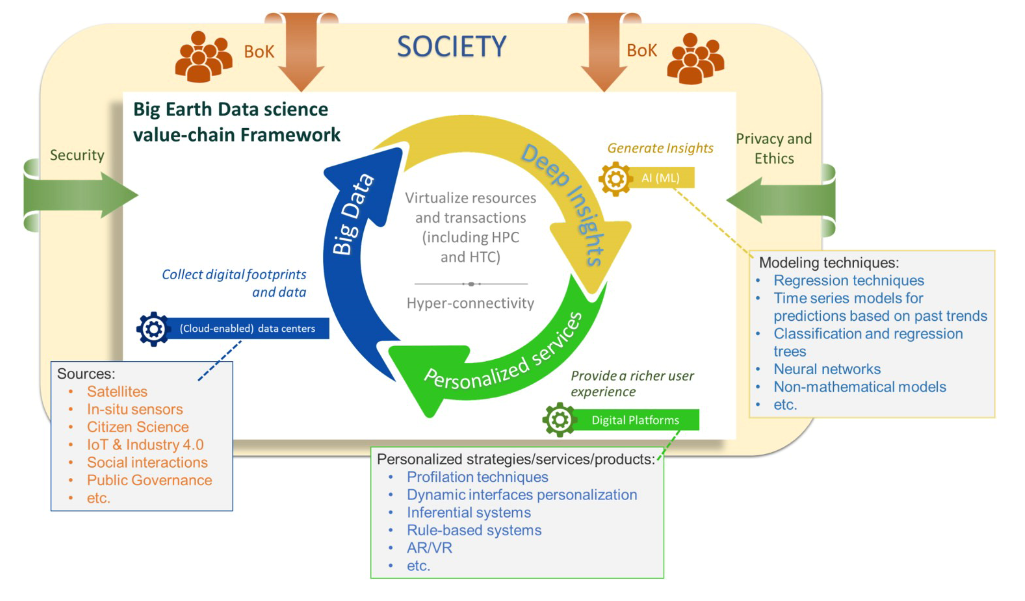 The Big Earth Data science high-level value-chain framework, building on a simplified model of the datafication paradigm (i.e. the three-step cycle).