Dr. Zeeshan Shirazi Participates in Symposium for Foreign Experts in Celebration of 2023 Chinese New Year
Feb 02, 2023
Chinese Premier Li Keqiang hosted a symposium at the Great Hall of the People in Beijing on January 18, 2023, inviting foreign experts from diverse background and expertise working in China.
Premier Li extended the Lunar New Year greetings to the foreign experts and their relatives, and thanked them for their contributions to China's reform, opening-up and modernization, and their contributions to promoting exchanges and cooperation with other countries.
Dr. Zeeshan Shirazi from the Aerospace Information Research Institute (AIR), Chinese Academy of Sciences (CAS) was also invited to attend the symposium. Dr. Zeeshan Shirazi from Pakistan was among the first recipient of the CAS-TWAS President's Fellowship Program. He is now severing as science officer at the secretariat of the Digital Silk Road International Science Program (DBAR) since 2018 and is responsible for scientific planning and evaluation of the DBAR program.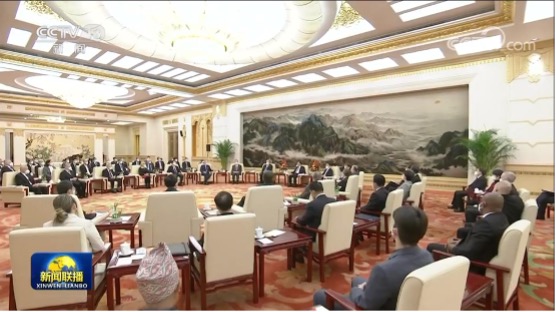 Chinese Premier Li Keqiang talks with foreign experts working in China. (Image credit: CCTV)
Dr. Zeeshan Shirazi attends the symposium. (Image credit: CCTV)