2022 International Training Workshop on Beidou Technologies and Applications Wraps up
Oct 11, 2022
The 2022 International Training Workshop on Beidou Technologies and Applications in the Belt and Road Countries and Regions wrapped up in Beijing on September 30, 2022. The workshop was attended by 163 students from 34 Belt and Road countries and regions.
The workshop was organized by the Aerospace Information Research Institute (AIR), the Academic Exchange Center of China Satellite Navigation Office, and the "Belt and Road" International Training Center of BeiDou Applications, with a view to providing overseas training and talent cultivation on the application of navigation and positioning technology based on the BDS, facilitate international cooperation and exchanges related to BDS technology and industry, and promote the global services of BDS.
The two-week workshop adopted a carefully designed course structure, optimal lecturer selection, and innovative management methods to improve the effectiveness of training. The students knew the fundamentals about the BeiDou System from the aspects of its development, application, and industrialization through lectures, on-site visits, and interactions.
They were required to attend nine courses including BDS and Its Applications, Overview of BDS Services and Capabilities, and Spacecraft Positioning and Timing Based on GPS, X-Ray Pulsar, and Cross-Satellite Range. They visited seven leading enterprises in satellite navigation. In addition, as a "Chinese Culture Tour", they visited Prince Gong Mansion, Yonghe Temple, and the Mutianyu section of the Great Wall to experience Chinese long history and civilization.
After 12-day intense training, research, and communication, the students learned the development of navigation and positioning technologies of BDS and their applications in related industries and recognized their scientific and economic values.
Haftu from Ethiopia hoped that BDS can contribute to his country's economy. Students from Uzbekistan hoped that BeiDou can be introduced into precision agriculture and other areas in their country. Online students from Algeria, Pakistan, Sri Lanka, and other countries wished to learn more about Beidou products and services.
Launched in 2017, the workshop has benefited thousands of students from over 50 Belt and Road countries and regions during the past five years. The workshop has become an important platform to transfer BDS technologies to Belt and Road countries and promote international exchanges and cooperation by sharing BDS location service and application achievements with them.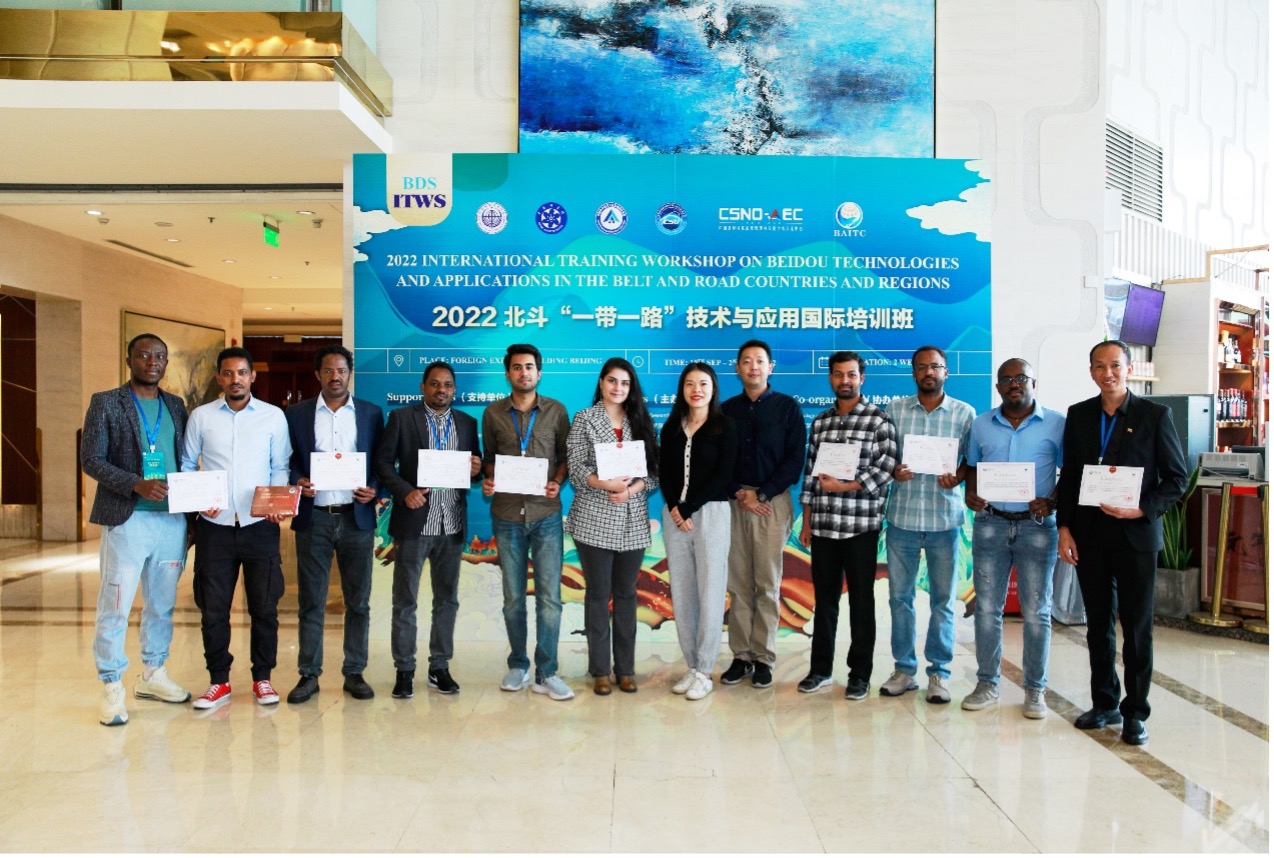 Group photo of the students who attend the closing ceremony.