China GEO Supports Thai Flood Disaster Response
Oct 11, 2022
Typhoon Noru landed in the northeast of Thailand on the afternoon of September 28, 2022, causing floods in 30 provinces, affecting more than 40,000 families, and causing agricultural losses of 3 billion baht (about 600 million yuan).
Responding to requests from the United Nations Institute for Training and Research (UNITAR) on October 1, China GEO Secretariat activated its Disaster Data Response (CDDR) Mechanism to provide high-resolution satellite imagery in support of disaster response.
ChinaGEOSS Data Sharing Network (ChinaGEOSS DSNet) hosted by the Aerospace Information Research Institute (AIR) of the Chinese Academy of Sciences (CAS) was responsible for the whole process of disaster data response. Two China's satellites were assigned five emergency observation missions over the flood inundated area in the provinces of Sisaket, Yasothon, Ubon Ratchathani, and Roi Et.
As of October 9, 25 scenes of satellite post-disaster imagery from Jilin-1 and Chaohu-1were collected, and the data volume reached 12.41GB. These data have been provided to UNITAR and Geo-Informatics and Space Technology Development Agency (GISTDA) to help them carry out on-site verification, analysis, and evaluation of the disaster situation.
Established in 2016, the CDDR is responsible for coordinating the provision of Chinese high-resolution satellite data and disaster analysis products to disaster-affected countries. It has also been confirmed as a long-term effective working mechanism by China GEO Secretariat since July 2021.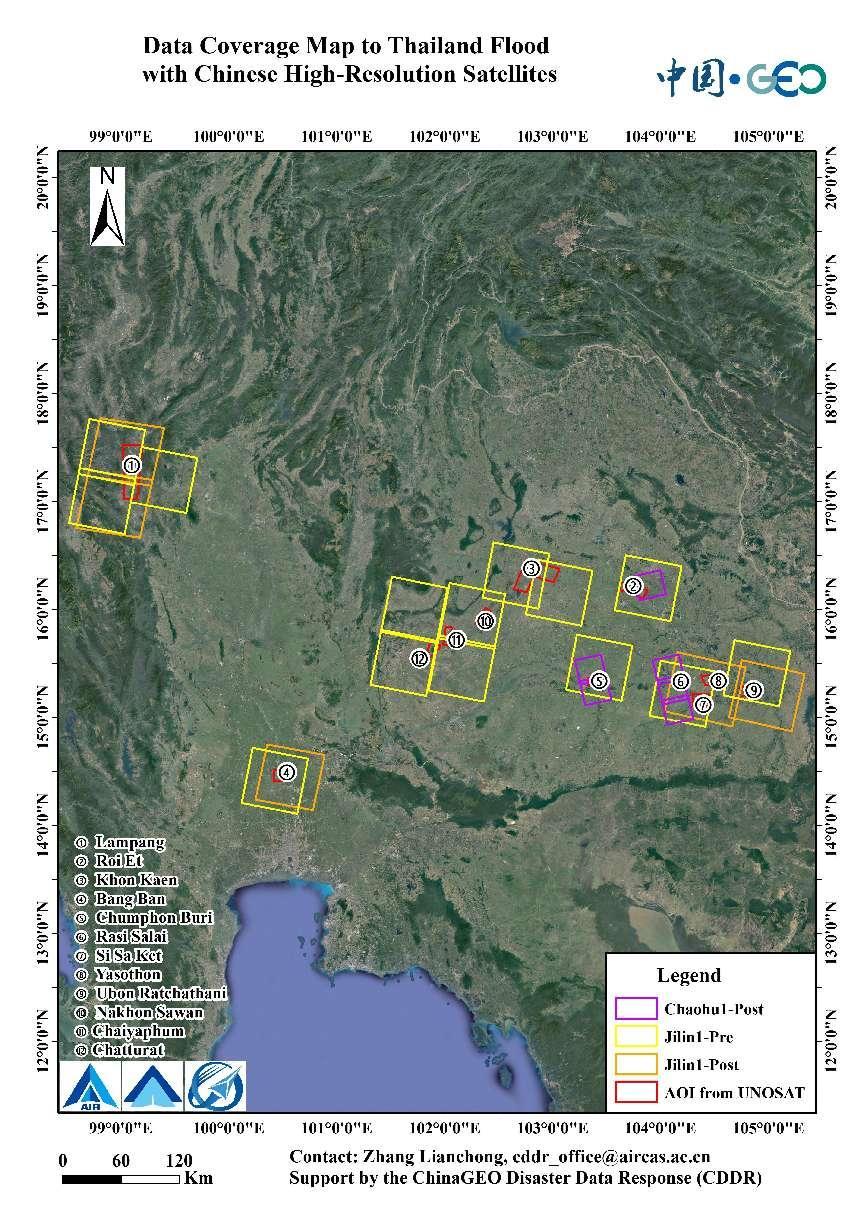 Data Coverage Map to Thailand Flood with Chinese remote sensing Satellites. (Image by AIR)