CBAS Holds Special Session on "Partnership for an Innovative Sustainable Future"
Sep 21, 2022
Hosted by the International Research Center of Big Data for Sustainable Development Goals (CBAS), a special session titled "Partnership for an Innovative Sustainable Future" was held at the 2022 International Forum on Big Data for Sustainable Development Goals on September 7, 2022, echoing the theme of Sustainable Development Goal 17 (SDG 17): Strengthen the means of implementation and revitalize the Global Partnership for Sustainable Development.
The world is facing multiple challenges such as the pandemic and geopolitical disturbances, hindering the progress of the global sustainable development. As a response, China initiated the Global Development Initiative (GDI), aiming to galvanize worldwide attention to development, strengthen global development partnership, promote international development cooperation, and lend fresh impetus to the realization of the 2030 SDGs.
CBAS, the international research center dedicated to serving the UN 2030 Agenda for Sustainable Development, launched a Global SDG Partnership Program as a response to such efforts under the guidance of the GDI.
Prof. GUO Huadong, Director General of CBAS, stressed at the special session the importance of integration of Digital Technology to support global connectivity and international cooperation by setting up a platform for cooperation through the Partnership, and achieving SDGs with Science, Technology, and Innovation (STI).
"CBAS will continue to strengthen its global outreach, cultivate big data in support of global development, and step up data cooperation and sharing with international community and support the adoption of digital technologies for a shared sustainable future for everyone", Guo said.
The participants highlighted the irreplaceable role of global cooperation as one of the most important components of the sustainable development, and the collaboration on big data will significantly contribute to the successful global coordination and facilitation of the SDGs as well as building a bridge for mutual support and a channel for capacity building for the developing countries.
The participants included well-known experts in the field of sustainable development including Jeffrey Sachs, Professor of Columbia University and President of the UN Sustainable Development Solutions Network, Dr. Wei Liu from the Inter-Agency Task Team at the Division for Sustainable Development of UN DESA, Prof. XU Zhengzhong from the Economy Department of the National Academy of Governance, Prof. SUN Xinzhang from the Administrative Center for China抯 Agenda 21, and Dr. Monthip Sriratana from the Climate Change Research Strategies Center of the National Research Council of Thailand.
Other participants included 14 representatives of international organizations, research institutes, and universities such as the UN-Habitat, the Qingdao National Laboratory for Marine Science and Technology, Keio University, Peking University, and Nanjing University.
The special session was held online, attracted over 500 audiences through video conference.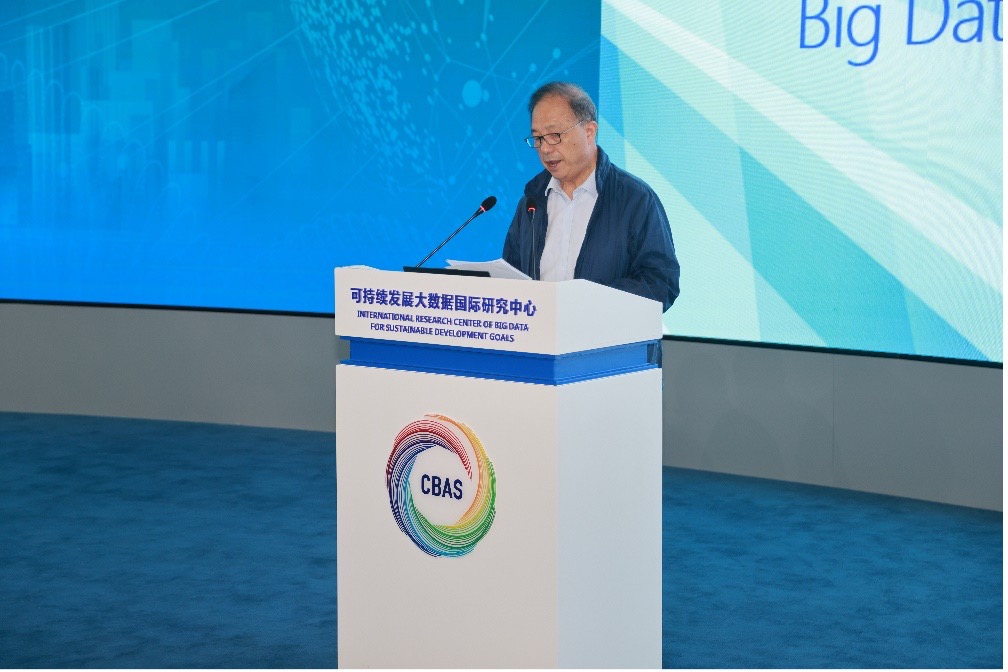 Prof. GUO Huadong delivers a speech.