2022 Asia Oceania GEO (AOGEO) Symposium Task Group 7 (TG7) Sectorial Meeting Held Online
Sep 18, 2022
AOGEO TG7 Eco-Environment Monitoring and Protection (EMP) sectorial meeting held on September 15,2022,which was attended by Prof. LIU Qinhuo from the Aerospace Information Research Institute (AIR) as a co-chair.
The meeting aims to communicate the technological developments and the latest outputs in the area of EMP, wrap up achievements in 2020-2022 and way forward for 2023-2025, formulate future plans of TG7 for supporting the GEO Engagement Priorities, and report TG's activity update at AOGEO Symposium session on September 29.
A total of 35 members of each working group participated in the event and discussed around such topics as ecosystem monitoring & climate impacts, recent progress on integrated remote sensing monitoring of ecosystem over Asia-Oceania hot areas, research progress on extraction of global land surface elements by GF-1m data, SAR and optic data based on urban impervious surface extraction, remote sensing for addressing Sustainable Development Goals (SDGs), among others.
Established in 2016, AOGEO Task Group 7 (TG7)- Eco-Environment Monitoring and Protection (EMP) focuses on improving regional cooperation in monitoring terrestrial ecosystem status and environmental quality and providing decision support for human well-being and environmental safeguard. It has also actively promoted cooperation with other global, regional, and national organizations to participate in GEO on EMP, while keeping close connections with other related activities such as GEOARC and GEOMUSYQ in the GEO Work Programme (GWP) 2020-2022.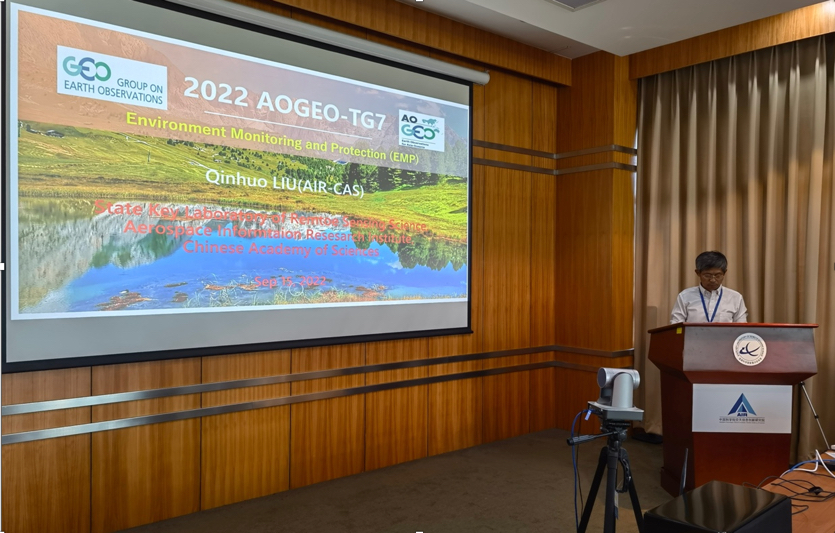 Prof. LIU Qinhuo at the meeting.