AIR Holds International Online Training Courses on Carbon Satellite Data
Mar 04, 2022
On February 24, the 1st Cooperation on the Analysis of Carbon Satellites Data (CASA) International Online Training Courses wrapped up.
The training course attracted nearly 160 trainees from Turkey, Montenegro, Pakistan, Sri Lanka, Belarus, Malaysia, Nepal, Thailand, Bangladesh and other 15 countries and regions to participate.
The aim of the ten-day training courses is to promote and support scientific researchers in international societies, space agencies, and research institutes in developing countries to widely use carbon satellite data resources and master related research methods and technologies.
15 trainers from Chinese Academy of Sciences, China Meteorological Administration, Tsinghua University, Beijing Institute of Technology, China University of Mining & Technology, National Science and Technology Development Agency (NSTDA), University of Leicester and National Institute for Environmental Studies (NIES)were invited to give lectures and seminars on different themes.
CASA also invited Prof. Philippe Ciais, a famous carbon cycle expert, research director at Laboratoire des Sciences du Climat et de l'Environnement in France, and professor at The Cyprus Institute. He also has worked for the IPCC in the Fourth IPCC Assessment Report, which was awarded the 2007 Nobel Peace Prize. His course gave us an introduction to a global assessment of oil and natural gas ultra-emissions from an IPCC perspective.
The training course is co-organized by Alliance of International Science Organizations (ANSO), National Earth Observation Data Center (NODA), Asia-Oceania Group on Earth Observations(AOGEO), AOGEO Regional Capacity Development Center (AOGEO RCCD), National Science and Technology Development Agency (NSTDA), Beijing Institute of Technology, Regional Centre for Space Science and Technology Education in Asia and the Pacific (China) and National Research Center of Air Traffic Management Law and Standard.
The training courses will continue to strengthen communication with outstanding talents at home and abroad and is committed to gradually building an important platform for delivering carbon satellite application technology to developing countries, promoting international exchanges and cooperation, and establishing cooperation with developing countries. The network will play an important role in promoting the concept of "dual carbon" policy development, promoting the application of China's carbon satellite data, etc., and at the same time better assist developing countries to achieve the common goal of "net zero emissions".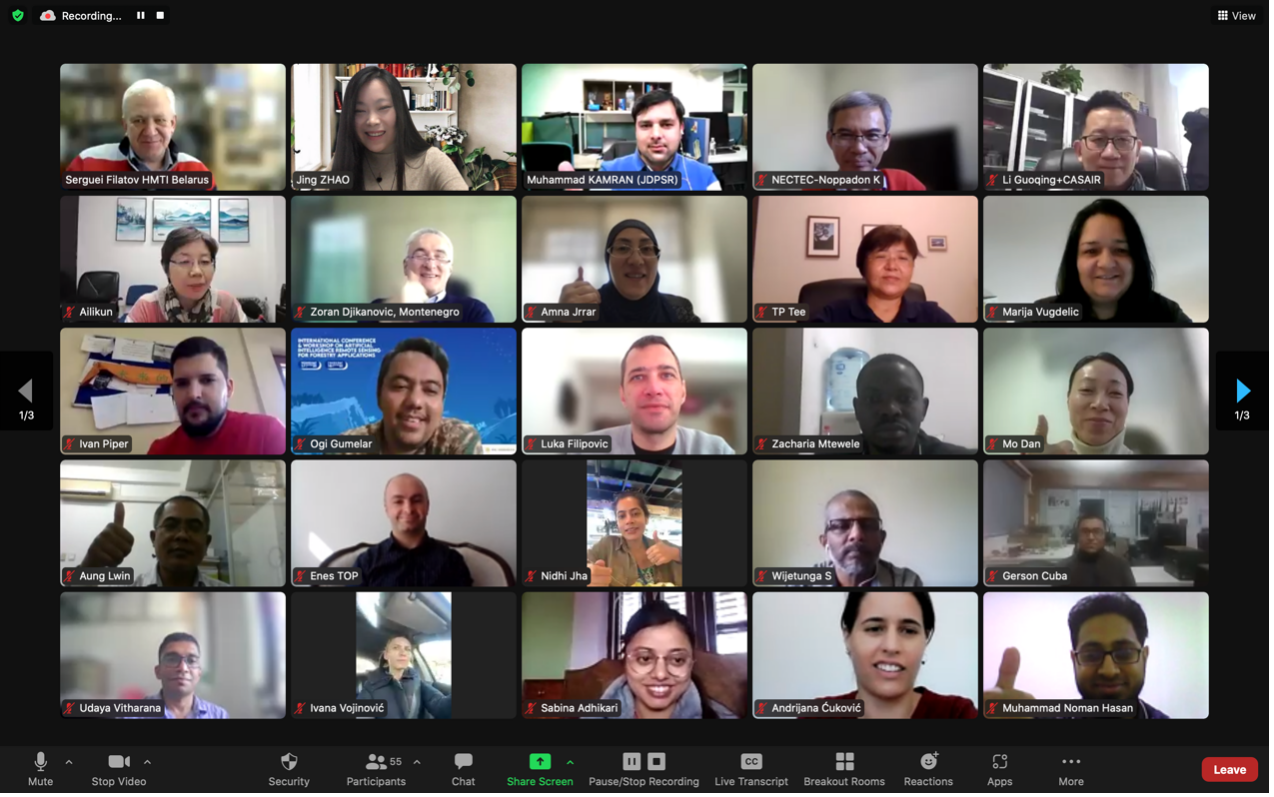 Online group photo of the 1st CASA International Online Training Courses.