Belt and Road Training Course on BeiDou Precise and Intelligent Positioning Opens in Nanning
Jan 12, 2022
The 2021 Belt and Road Training Course on BeiDou Precise and Intelligent Positioning was opened on January 10 in Nanning, capital of Guangxi Zhuang Autonomous Region in southern China. The opening ceremony brought more than 40 participants including international students as well as foreign enterprise and public institution representatives in China.
AI Likun, Assistant Executive Director of the Secretariat of Alliance of International Science Organizations in the Belt and Road Region (ANSO), XIAO Di, Deputy Director of Academic Exchange Center of China Satellite Navigation Office, and WANG Zhihu, Director of China-ASEAN BeiDou/GNSS (Nanning) Center, presented the opening ceremony and delivered speeches.
AI Likun, in an online speech, introduced the mission and action of ANSO project, as well as the approaches to involve ANSO activities. She said that since its establishment in 2018, ANSO had integrated 9 S&T institutions and organizations, including Chinese Academy of Sciences and Russian Academy of Sciences into its board members. She hoped that scientific communities from various countries give full play on the ANSO platform and contribute to the building of a community of common destiny for mankind.
XIAO Di stressed that 2022 marked the eighth anniversary of the Belt and Road Initiative, the second year since the completion of BDS, and the fifth year of BeiDou Belt and Road international training course series. BDS, as a space infrastructure providing public services for the users around the world, has become an image of China in terms of its efforts to build a community of common future for mankind, and is of great significance to the development of the Belt and Road Initiative. She hoped that this training course would promote the in-depth interactions and exchanges in the international field of satellite navigation, and promote the development of satellite navigation applications in Belt and Road countries.
The training workshop is jointly organized by the Information Research Institute with the Chinese Academy of Sciences, Academic Exchange Center of China Satellite Navigation Office and Belt and Road International Training Center for BDS Applications, and is hosted by China-ASEAN BeiDou/GNSS (Nanning) Center and Guangxi University for Nationalities.
The three-day training course will be delivered both online and offline, in a mixture of live-streaming and prerecorded modes.The training course has attracted 24 foreign trainees from more than 10 countries and regions, including Bangladesh, Nigeria, Zimbabwe, Rwanda, Pakistan, Somalia, Zambia, Chad, Ethiopia and Uzbekistan.
Since its launch in 2017, the BeiDou Belt and Road International Training Course has trained more than 1,000 trainees from more than 30 countries and regions along the Belt and Road in the past five years.
Since its completion and opening one year ago, BDS has been applied in more than 30 countries along the Belt and Road and provided services to more than 100 million users.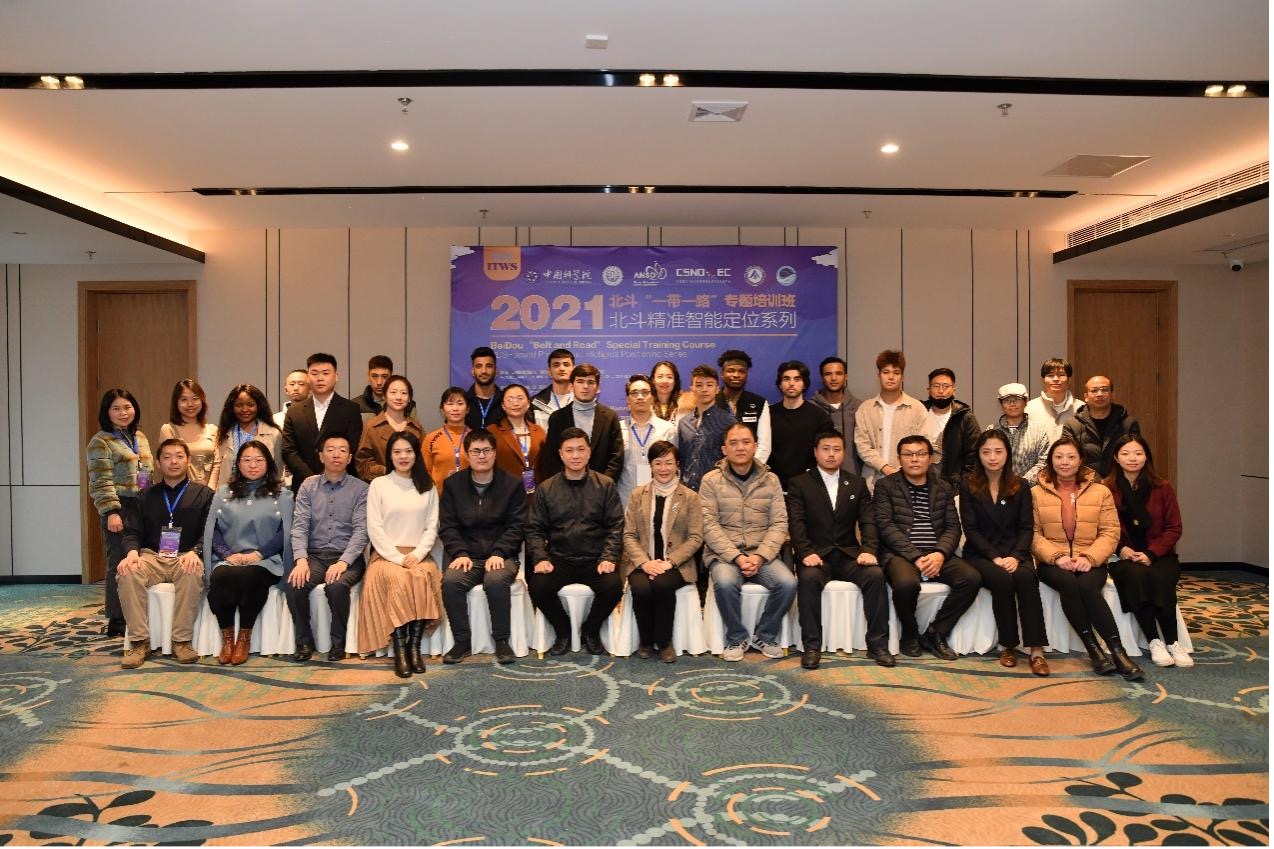 Group photo.