2022 International Forum on Big Data for Sustainable Development Goals
Jun 29, 2022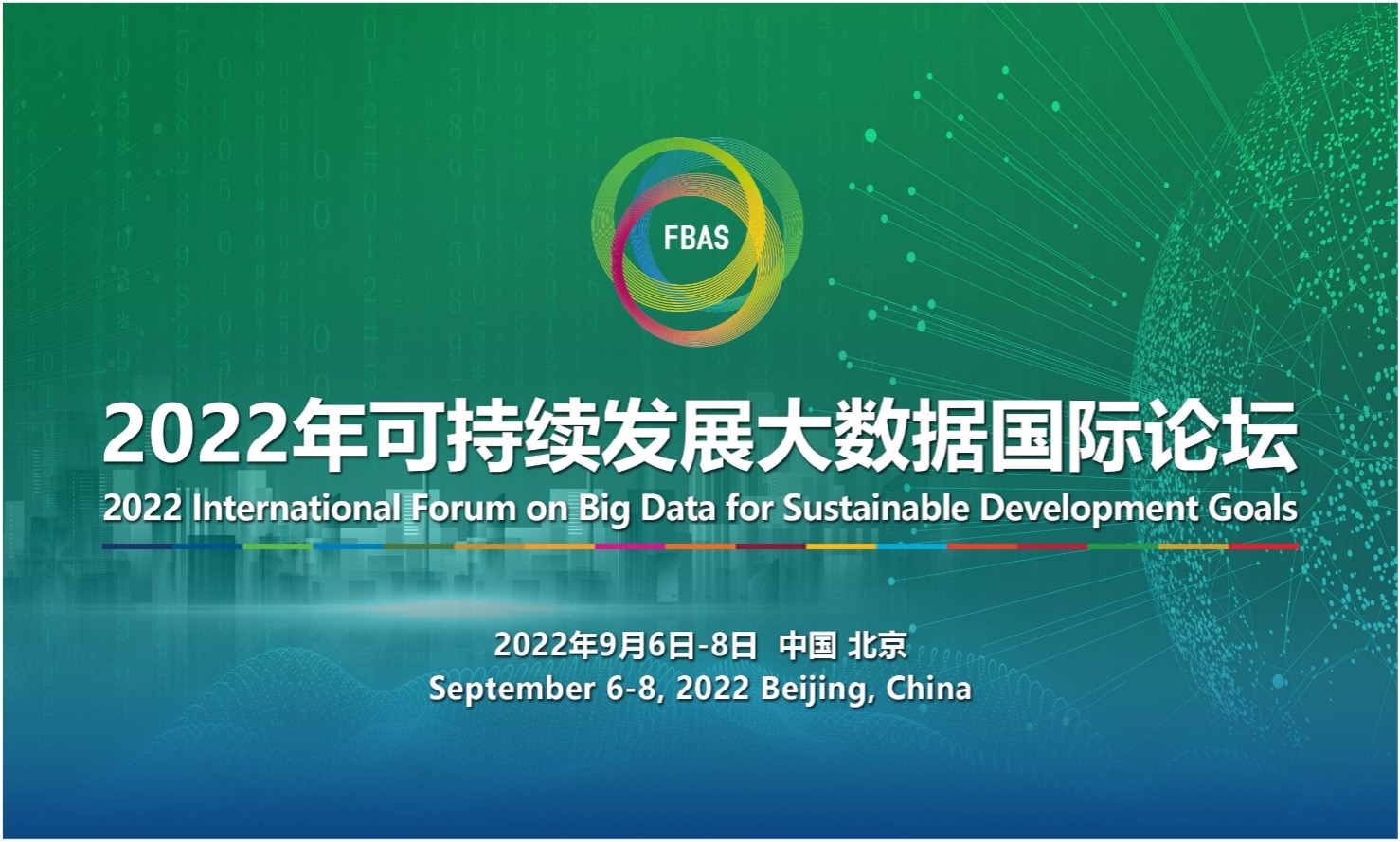 Scientific and technological innovations are important tools to support the implementation of sustainable development goals. Big data, as an important content of digital technology, plays a crucial role in supporting the realization of Sustainable Development Goals. In order to promote the sharing of methods, technologies and cases of big data and digital technology in support of sustainable development, 2022 International Forum on Big Data for Sustainable Development Goals (FBAS 2022) will be held in a hybrid format in September, 2022. The Forum will not only provide a global high-level academic communication platform on the use of technology facilitation mechanism to achieve the SDGs, but also help to serve the relevant United Nations agencies and Member States to implement the 2030 Agenda for Sustainable Development.
Host: Chinese Academy of Sciences
Organizer: International Research Center of Big Data for Sustainable Development Goals; Aerospace Information Research Institute, Chinese Academy of Sciences
Date: September 6-8, 2022
Format: Hybrid (online and onsite, with main venue in Beijing, China)
Theme:
Digital Technology Empowers the Achievement of Sustainable Development Goals
Topics: (including but not limited to)
SDG2 (Zero Hunger): Developing sustainable food systems;
SDG6 (Clean Water and Sanitation): Integrated management for water resources;
SDG7 (Affordable and Clean Energy): Transitioning to low-carbon energy; SDG11 (Sustainable Cities and Communities): Green and resilience city; SDG13 (Climate Action): Accelerating climate change mitigation and adaptation;
SDG14 (Life below Water): Blue innovation for the delivery of the SDGs; SDG15 (Life on Land): Sustainable use of terrestrial ecosystems;
Digital Technology: Digital transformation changing the world;
Youth Innovation: Sharing for the future
Preliminary Program:
Academic Exchanges: The forum opening and closing ceremonies will be held both online and onsite. Other academic activities of the forum will be online through ZOOM webinar. The forum will include plenary sessions with keynote speeches and parallel sessions on different topics.
Call for Sessions:
The forum is calling for sessions focusing on the topics of SDG2, SDG6, SDG7, SDG11, SDG13, SDG14, SDG15, Digital Technology, and Youth Innovation. Each session will consist of up to 6 oral presentations with around 15 minutes for each presentation. Please submit the session proposal to the forum secretariat by July 12, 2022 (Please check the forum website to get the Session Proposal Form).
Call for Abstracts:
The language of FBAS 2022 is English. The abstract needs to be prepared and submitted using the provided word template available on the forum website. Please correctly select the abstract type in the submission system as the "invited submission"or "free submission". The Forum Organizing Committee will organize peer-review on abstracts, and then send the invitation for oral presentations. The accepted abstracts will be included in the Forum's Abstract Collection (non-publication).
Important Dates:
Abstract Submission Deadline: July 5, 2022
Abstract Acceptance Notification: July 15, 2022
Speaker Attendance Confirmation: August 10, 2022
Online Registration Deadline:September 5, 2022
FBAS 2022:September 6-8, 2022
Registration Fee:
Regular Participant 220 USD
Student Participant 120 USD
Kindly visit the website to register the forum.
We welcome experts from governments, research institutes, universities, United Nations agencies, international organizations, and industries in the field of big data for sustainable development worldwide to attend the forum. For more details, please check the forum website: https://fbas2022.scimeeting.cn/en/web/index/ .
Contact Us:
Secretariat of 2022 International Forum on Big Data for Sustainable Development Goals
Email: fbas@cbas.ac.cn
Tel.:+86-10-82178356